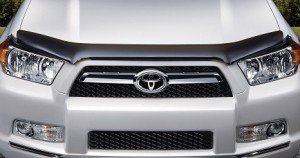 Toyota vehicle owners are a special breed. They tend to take the love of their Toyota vehicle seriously. There's so much to love about a Toyota car, truck, SUV, minivan or hybrid that this level of devotion is not surprising. If you'd like to take your love of your vehicle to the next level, consider purchasing a hood protector.
Of course, only Genuine Toyota parts will do. And we've got them. Like all Genuine Toyota parts, a hood protector from Toyota is designed to exacting specifications to fit your specific vehicle like a glove. And just as gloves provide protection against everything from cold to splinters, a hood protector from Toyota will help protect your vehicle's factory paint finish and help prevent damage from errant stones and other debris that may be thrown in your path during day-to-day use.
Made of highly impact-resistant polycarbonate material, a genuine Toyota hood protector for your treasured vehicle comes with mounting hardware and do-it-yourself installation instructions. Or let your local dealer install it, and rest assured you've taken steps to protect your precious vehicle with the impact-resistance, strength and durability of a hood protector from Toyota, made just for Toyotas.
Toyota hood protectors are made of the same material used to manufacture high-end sunglasses and other designer eyewear items, where impact resistance is a crucial safety feature. Hood protectors require no drilling. Mounting hardware is included. Check with your local Western Pennsylvania Toyota dealer for more information.